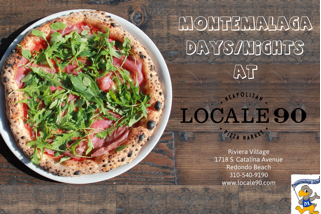 Montemalaga Fundraising Days and Nights
September 20th & 21st, 2016 – Welcome Back! - All families will receive a gift certificate for a Free Bambini Pizza for their next visit!
October 18th & 19th, 2016
November 15th & 16th,2016
January 17th & 18th, 2017
February 21st & 22nd, 2017
March 21st & 22nd, 2017*
April 18th & 19th, 2017*
May 16th & 17th, 2017
*The most participation from a class in March and April wins a pizza party for their class at the end of the year!
Locale90 Fundraising Nights include take-out orders as well.
Place your takeout order by calling at 310-540-9190 or order delivery through or EAT24, Door Dash or Amazon Prime Now.
Hours: 11:30 am – 9:00 pm (Closed between 3pm-5pm M-Thurs)
1718 S. Catalina Avenue, Redondo Beach, CA 90277
Please remember to write your name, check number and amount on the sign-up sheet to register and 20% of all food and non-alcoholic sales will be donated to the school. (tips not included).